Submission & Peer review
Your submission checklist:
1-Read your chosen journal submission requirements
The individual author guidelines are located on the relevant journal homepage, under "˜
Guidelines for Author
" (in the top menu).
2-Read the online submission system guidelines
You can submit to Iraqi journal Pharmaceutical Sciences online, for example via Open Journal System.
3-Learn about the

peer review process
a) What is peer review?
Peer review is designed to assess the validity, quality and often the originality of articles for publication. Its ultimate purpose is to maintain the integrity of science by filtering out invalid or poor quality articles. From a publisher perspective, peer review functions as a filter for content, directing better quality articles to btter quality journals and so creating journal brands. Running articles through the process of peer review adds value to them. For this reason publishers need to make sure that peer review is rob.
b) What the Critics Say
The peer review system is not without criticism. Studies show that even after peer review, some articles still contain inaccuracies and demonstrate that most rejected papers will go on to be published somewhere else.
However, these criticisms should be understood within the context of peer review as a human activity. The occasional errors of peer review are not reasons for abandoning the process altogether the mistakes would be worse without it.
Read about what to expect from peer review and the possible outcomes for your manuscript, including what to do if your manuscript isnt accepted right away. Your work is sent to experts in your field of study (
at least three reviewers
) in order to gain their insight and suggestions. Reviewers will evaluate the originality and thoroughness of your work, and whether it is a good fit for the journal you have submitted to. The length of the peer review process varies by journal, so check with the editors or the staff of the journal to which you are submitting to for details of the process for that particular journal.
The general steps for peer review " after passing plagiarism step " are summarized in the following figure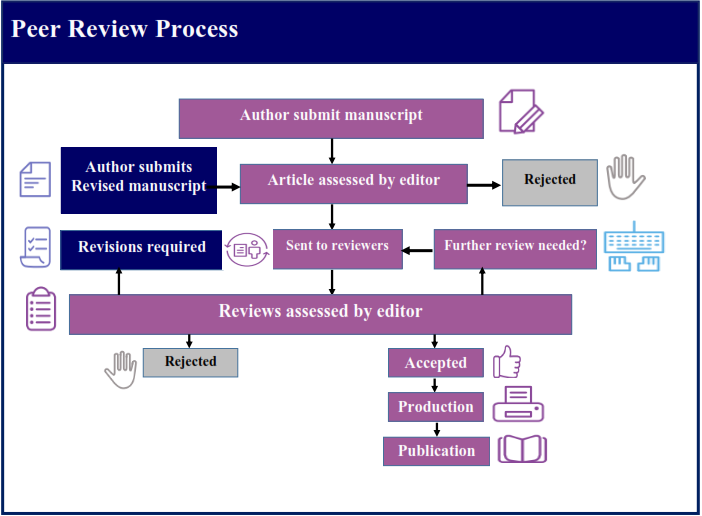 An acknowledgement for manuscript submission will be sent to the author through e-mail.
For any kind of queries authors may write to editor:
[email protected]
or call on: +96407901700809.